Ubiquiti Access Points: UAP-AC-LITE Vs. UAP-AC-PRO
Ubiquiti Access Points are the new name in Wi-Fi game but they have made a big name in a very short time period. Because they offer enterprise-class equipment at the affordable price which is lower than the competitors. They are competitive in the market while delivering high-quality equipment.
Ubiquiti has what one might call a basic approach especially when it comes to software. Their equipment lacks the high-grade automation seen compare to competitors such as Meraki and also doesn't have advanced features such as firewalls or anti-virus software.  When you buying Ubiquiti access points, you're "just" getting an access point.
However, when Ubiquiti costs a fraction of even their lowest-cost competitor, there's still a lot of argument to be made in favor of buying them.  Plus, they have a very nice GUI system Dashboard which is easy to use – it simply requires admins be a bit more hands-on and implement their own security solutions.
The All APs are meant to function optimally when ceiling-mounted, and It comes with brackets to facilitate this.
The Main Ubiquiti AP Models
1 – What is the difference between AC-LR and AC-PRO?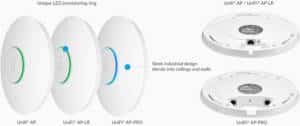 The AC-LR is a specials device which is intended to be sold directly to educational institutions where you need to broadcast Wi-Fi signals for an extended range by using high-gain antennas.  It has a maximum range of about 183 meters, whereas most other models only broadcast up to 122 meters.
However, there is the most important thing to keep in mind here: Wi-Fi is a two-way street.  Many receiving devices, mostly smaller ones like mobile phones, don't have the transmitting capability to broadcast 183 meters back to the AP and therefore drop the connectivity.
In another hand, the AC-PRO is limited to 300 feet, but it has 3×3 MIMO array on the 5ghz band, as opposed to the AC-LR's 2×2 array.  So, you get roughly 33% better speeds 802.11ac speeds from the AC-PRO AP.  The AC-PRO AP also has a secondary Ethernet port to connect direct hardware connections.  The AC-LR weighs 240g and the AC-Pro weighs 350g.
As such, the AC-PRO is generally a better investment than the AC-LR, even if it does cost a little more.
2 – What's the difference between UAP-AC-LITE vs. UAP-AC-Pro?
The AC-LITE is Ubiquiti's entry-level model.  As such as, it's one of the most affordable 802.11ac APs in the market today.  However, it's also the slowest model Ubiquiti makes, with maximum speeds of 300Mbps on 2.4ghz and 867Mbps on 5ghz.
It's more of a consumer-class device which could also serve well sufficient for small offices or home office that doesn't have the massive bandwidth required.  At the price, it undoubtedly isn't bad to buy.  It's also a small device in size and can be attached anywhere.
But, it's not going to be capable to handle the workload of some of the larger models.
3 – Is the AP-AC-HD worth the extra money?
The top end of Ubiquiti's line is the AP-AC-HD, which costs roughly three times of the AC-PRO.
Ubiquiti AP-AC-HD has superior speeds – up to 1.7Gbps as well as having more onboard software features than the other models.  It can handle manageabilities such as guest control and URL filtering.  The AC-AC-HD is a good choice for restaurant, cafes or hotels, who looking for a cost-effective solution for providing guest Wi-Fi access.  It's easily the most affordable product on the market for such applications.
It could be used in an office as well if you want to take advantage of its high speeds.  Two ethernet ports a give it more flexibility in implementation as well.
If You Need High Speeds On A Budget, go for Ubiquiti
Now, you have a better idea about the aims and capabilities of the main Ubiquiti access point models.  They aren't the most feature-rich APs on the market, but if you need a cost-effective solution for adding basic high-speed 802.11ac and 802.11ac wave 2 to your offices, or hospitality establishment they can easily serve the purpose.
Contact KSR Computer Systems today to know more about Ubiquiti's APs.