Strategy for setting up a network for small Businesses
Are you a small business Owner in the Delhi & NCR area looking to set up a computer network but don't know how to approach right IT solution Provider? Perhaps you're simply wanted to educate yourself before seeking outside help from a local computer network installation and support company in your area. If so, keep reading. We'll provide you few basics to assist you make the right selections for small business network setup.
We all are well-versed with the fact that a robust network is a pre-requisite factor for the survival of business in today's competitive world. The contributing factors of strong network know no bound today. Likewise, starting a small business set up with a primary networking channel is no longer a whammy situation today. The underlying networking system functions effectively for a while unless the company is in a nascent phase. Once the company starts flourishing its existence in the market, it further needs to face the networking struggles and overcome all the hurdles. This strategy is the fundamental growth factor essential for the survival of small-scale industries.
Let us take a quick overview of some of the best practices to execute a robust network for the small-scale industries.
Assessment of your business requirements: Analyzing what your business network demands are one of the most critical stages in setting up a small business network. Take a pen and paper in your hand, and jot down important questions which you need to evaluate yourself with.
What is the minimal number of printers, computers and other network devices that you want your LAN to be connected with?
Jot down all the applications that your employees are using or require.
What files or business will you be sharing either with your employees or with your clients?
Is VPN required for your remote employees?
What bandwidth of the wireless coverage are you willing to make available at your working place?
What are the types and models of the mobile devices that can connect with your LAN?
Once you are done with the analyzing the requirements of your business unit, you need to fix whether you require a wired network or a wireless network.
Wireless or Wired Connectivity?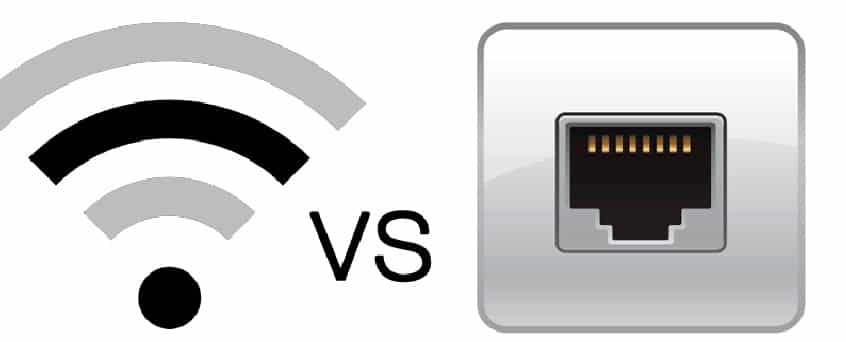 A wired network becomes essential for you if you have a business setup wherein your employees shall be restricted to sit before the screen for the entire working hours. The shortcomings of the wired network are that they are designed looking at the requirements of computer use. However, the use of wired network falls short of when it needs to be connected to the mobile devices and laptops. The wireless network, on the other hand, is compatible with all forms of devices. Majority of the established businesses do possess both the types of internet connectivity. Some of the facts you need to keep in mind while moving ahead with your network selection are as follows:
If convenience is your priority, go ahead with the wireless type of connectivity.
Wired networks are preferable when you prioritize the speed and internet reliability.
Wired network is comparatively easier to secure.
Majority of the business today possess both the wired and wireless forms of the network for the combined benefits of reliability, convenience and speed.
Consider your Hardware requirements for small business network setup:
Once you are done with the business setup analysis and defining your networking requirements, further you need to evaluate what type of hardware you require. Majority of the business setups have a router linked to a server. Connect with your internet service provider to assess whether or not they shall provide you with a router or not. On the other hand, you can even purchase a router all by yourself.
Some of the standard equipment requirements of the majority of the small businesses network setup:
Router: Majority of the top-rated internet service providers do offer a router for both of your wired and wireless networks. The router plays a vital role in connecting your office networking channel to the extranet.
Servers: Servers are said to be an amalgam of varied services. These services are inclusive of DHCP, authentication, and storage related services. The servers are present either on-prem or are made available via cloud computing.
Firewall: Sometimes you may find the firewalls as a part of Gateway; however their advanced versions are the standalone models. The firewalls are the protective shield of your computers for protecting them from the unauthorized intrusions of spams and viruses.
VPN: VPN is available in two format forms either as a standalone device or a part of the server as service. VPN is the mediator which gains the remote access of traveling employees or those who work from home.
Now when you are ready with finalizing your network requirements, it is essential for you to set up a server room for the same. Here are some of the vital tips to lead you forward towards setting a server room for your business.
Place your equipment's in a structured manner:
It is apparent that you find the small businesses piling up their server hardware devices and networking appliances all on a single desk. This gives rise to a messy situation and lowers your business standards. In spite of this embarrassing phenomenon, piling up of the server hardware drives and networking appliances are at a higher risk of physical tampering. More or less such a clumsy mess may intermingle with coffee spills or dust attack. In the worst scenario, your employees may stumble over the orphan wires.
Equipping your networking essentials on rack-mount equipment is like accommodating your equipment's in a proper storehouse.
You even have a server rack designed to compatible with all seasons:
Getting or buying a server rack is not as easy as eating a pie. You need to consider the width and depth requirements of your server rack. Majority of the modern server racks are equipped with rear brackets that are adjustable.
If you want to create an environment free from the server sound prefer its isolation:
Big establishments will agree on reducing the noise pollution to minimize its effects. Big establishments pose a differential room for storing in the server equipment. In addition to lowering the sapping equipment noise from hindering your practical ethics, a specialized room for equipping IT equipment's secures it against the theft issues.
Labeling your IT equipment's is one of the essential and stringent rules to be followed:
Adequate labeling of the IT equipment's prevents the occurrence of mishaps or the catastrophic mistakes. It may so happen that your mission-critical system may go unplugged or restart without notifying you. To avoid such errors purchasing a label printer and labeling all the appliances of servers and networks is pre-requisite.